TRADE IN YOUR STUFF
OUT WITH THE OLD - IN WITH THE AWESOME!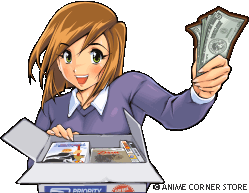 Did you know that you can trade in your previously viewed DVD's, BD's, CD's, Manga, and Video Games for store credit @ RACS?
Trading in your excellent condition previously owned stuff for credit is now very easy, and we've even expanded the program for some non-Anime items too! Just click on this link to see the trade in values of your used stuff, then pack-up your items and send them to us - there is no need to contact us first or obtain an authorization number. Once they arrive and are inspected, we'll e-mail you with a special credit code you can spend on our store.
It's that easy! So why just let your stuff collect dust? Trade it in and get
something you really want!


DON'T MISS ALL THE ACTION
SUBSCRIBE TO ROBERT's WEEKLY e-NEWSLETTER!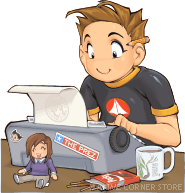 Every Friday afternoon we send out our comprehensive e-newsletter to the entire Anime Corner family outlining all the latest arrivals, newest offers, and (of course) Robert's musings on what's going on in the Anime world. Best yet, it's completely free. So what are you waiting for? Over 41,000 other otaku can't be wrong!

Join or Update Your RACS Newsletter Subscription
Subscribing will only take a minute and will ensure you will be privy to all our latest arrivals and exclusive offers. So sign up and become part of the Anime Corner family - Noemi welcomes you!