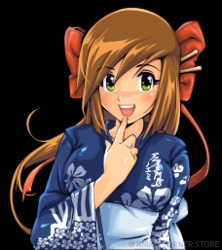 Link To Robert's Anime Corner Store
Want to Link to the Anime Corner Store?
If you'd like to include a link to the Anime Corner Store on your web site, just copy one of our banners here. We appreciate it!
Site URL is - www.animecornerstore.com


-
Join Our Affiliate Program and Earn Store Credit!
Have an anime or game related website? Want to earn store credit towards your next Anime purchase by linking to the Anime Corner Store? Then join the Anime Corner Store Associate Program. It's quick, it's easy, and it can earn you free Anime!
About the Program
The Anime Corner Store Affiliate Program is an easy way for to enhance your site by giving your site visitors a way to purchase anime products from one of the best Anime stores on the web. By simply linking to the AnimeCornerStore.com, you can earn generous referral credits by having visitors click from your site through to the Anime Corner Store to purchase anime items. Then you can use these credits towards your own purchases at the Anime Corner Store. What could be more simple! And our affiliate links offer the flexibility to point to either the front page of the store, or to any number of specific items pages - giving you the best possible opportunity to maximize the amount of credit you earn!
Here Is How It Works - Four Easy Steps
1) Send us an e-mail indicating that you are interested in joining the Anime Corner's associate program. Be certain to include the following information:
URL of your website (must be active please)

Your Full Name

Your E-Mail Address

Your Current Address & Phone Number for our records
2) We will evaluate your site, and if your site is chosen as one of our partner sites, you will be eligible for a 5% credit commission on all sales that you refer to the Anime Corner Store through the link on your site. That means that you can potentially earn hundreds of dollars in Anime Corner Store credit just by linking to the Anime Corner Store. And it's free to join.
3) Once your site is approved, we will e-mail you with your special affiliate link, plus simple instructions on how to use the link, how to check your links results, and how to use the store credits your link generates. You can use direct links from your site, or copy and link from one or more of our web banners located here.
4) You may use any amount of your accumulated commissions at any time for store credit at the Anime Corner Store. No time limits. No minimums. No hassles.
It's that simple! So what are you waiting for? Get enrolled today and start earning!