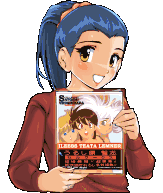 Import & Domestic Anime Art and Illustration Books
Welcome the Anime Art & Illustration Books section! Currently, we will not be able to take any special orders or requests for any art books that are not listed here, but rest assured, new items will be posted here as soon as they arrive from Japan! Best of all, all the books listed here are in stock unless otherwise noted!
Updates will be posted in the Store Updates section, so be sure to take a look!
Note: All items listed in this section are in Japanese Language unless otherwise noted.