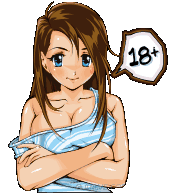 Anime For Adults Only
WARNING!
The material featured in this section of the Anime Corner Store is for ADULTS ONLY. By entering and viewing this section, you certify that you are of legal age in the country, province, city, or state which you reside in (that's 18 years old in the United States), and that you may legally view such material.
To help prevent the purchase of these items by minors, all items in this section may only be paid for by credit card.
We cannot accept orders paid for by check, or money order for items in this section.
Credit Card orders only please.
If you are not of legal age, you must click here to return to the store's home page.