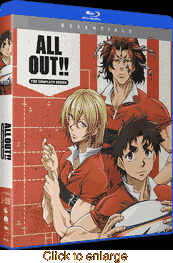 All Out!!
Genre: Action / Comedy (Age Rating 15+)
Format: BLURAY (Region A)
Length: 625 Minutes
Language: Bilingual - Japanese w/ English Subtitles and English Dubbed
Release: Funimation
Availability : Stocking Item - Usually Ships Within 24-48 Hours Unless Backordered








Fast, hard-hitting, and intense, rugby is a sport where anyone can shine!
First-year Kenji Gion has never played, but after a run-in with Sumiaki Iwashimizu, a tall and hesitant first-year, heís ready to prove he has what it takes, despite his lack of height. Thereís a lot more to this game than he expected, however, and this team isnít about to go easy on him. But if thereís one thing Gion has, itís spirit, and heís not taking no for an answer. Iwashimizu on the other hand has his own issues to tackle before heís ready to join the team. But Gionís not ready to let his new buddy off the hook! After much persistence and resolve, Gion and Iwashimizu make the cut only to learn that thereís a lot this teamís missing, like a coach! Will this mismatched duo manage to fit in on an already struggling team?
Theyíll have to get it together and go all out!