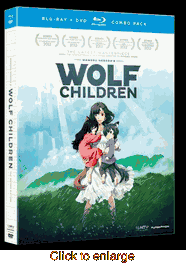 Wolf Children
Genre: Fantasy / Drama (Age Rating 13+)
Format: DVD (Region 1) and BLURAY (Region A)
Length: 117 Minutes
Language: Bilingual - Japanese w/ English Subtitles and English Dubbed
Release: Funimation
Availability : Stocking Item - Usually Ships Within 24-48 Hours Unless Backordered




Experience the latest masterpiece from the internationally-acclaimed, award-winning director of Summer Wars.
Hana was a student before she was a mother. She was bright and pretty, and her future held endless possibilities. Then she met a man, who turned out to be a wolf, and together they built a family.Hana loved her mate fiercely, but fate took him from her, leaving her alone with two unusual kids she didnít know how to raise. Frightened of being discovered, Hana and her wolf children fled to the countryside to build a new life. Raising her little wild things was an adventure. It left Hana bruised, scratched, exhausted, and joyously overwhelmed as her pups grew stronger and wandered further every day. This is a motherís journey. Teach your children to chase their dreams Ė and smile through the tears as they disappear into the world in search of who they will become.
Hana wasnít always a mother, but it was always what she was meant to be.