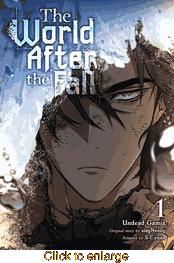 The World After the Fall Graphic Novels
Genre: Action / Fantasy (Age Rating 13+)
Format: Graphic Novel, B&W
Author: Story by singNsong and Art by Undead Gamja
Language: English Language
Release: Ize Press
Availability : Stocking Item - Usually Ships Within 24-48 Hours Unless Backordered









A tower one day appeared in the skies, standing out as a beacon of chaos and apocalypse.
A heroic and powerful lot known as Walkers cleared the tower floors in order to save humanity, until the day that the Stone of Regression was discovered. Walkers could now "return" to the past, and slowly, everyone left. The brave few who remained formed Carpe Diem, a group of people who refused to abandon the world and represented humanity's last hope.
But once the last Walker reached floor 100, he no longer knew what to believe.