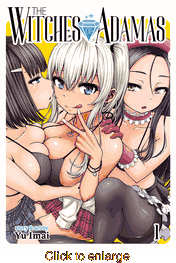 Witches of Adamas Graphic Novels
Genre: Comedy / Fan Service (Age Rating 18+)
Format: Graphic Novel, B&W
Author: Yu Imai
Language: English Language
Release: Ghost Ship
Availability : Stocking Item - Usually Ships Within 24-48 Hours Unless Backordered









Satou Yukinari has a very strange condition: he ejaculates diamonds.
Although these special diamonds are worth a fortune, and he could orgasm his way to great riches, they come with a price—each diamond costs him a year of his life! And beyond that, his condition has attracted a horde of beautiful seductress witches who want his precious stones, regardless of what it costs him.
Watch Yukinari try to overcome sexy but deadly temptation in this outrageous, raunchy comedy!