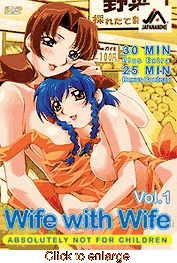 Wife with Wife
Genre: Adult Hentai / Erotic Fantasy (Age Rating 18+)
Format: DVD (Region 1) (Uncut and Uncensored)
Length: 30 Minutes Per Volume
Language: Japanese w/ English Subtitles
Release: JapanAnime
Availability : Discontinued and Out of Print - Limited to Stock on Hand

Note: This Anime Contains Extremely Graphic Sex, Nudity, and Adult Situations.






Koutaro is the manager and the owner of Sakura Market. He took over this business after his father passed away.
Sakura Market is a nice independent supermarket; however, it is in jeopardy of being taken over by a large supermarket corporation, Kaneyu. The ironic scenario is that the takeover act is being master-minded by Koutaro's true brother, Taiyo! Koutaro fights hard to protect his father's supermarket, his stepsister Nagisa and his mom. What extreme measures will Koutaro take to protect the things that are dear to him?
Why has Taiyo betrayed the family?