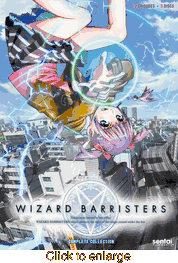 Wizard Barristers
Genre: Action / Comedy (Age Rating 15+)
Format: DVD (Region 1) & BLURAY (Region A)
Length: 300 Minutes
Language: Bilingual - Japanese w/ English Subtitles and English Dubbed
Release: Section 23
Availability : Stocking Item - Usually Ships Within 24-48 Hours Unless Backordered








When the laws of magic are broken, it's the duty of the Police Department's
deadly Section 1 to enforce them.
But, since even craven maven mages and nefarious necromancers have the right to a fair trial, the job of defending them belongs to the Benmashi, the Wizard Barristers! It's a tricky profession, requiring both arcane ability and a judicious sense of jurisprudence, and at just seventeen, Cecil Sudo is the youngest Benmashi that Butterfly Law has ever employed. That means a lot of late nights burning the midnight brimstone, summoning up summaries, parsing phrases with paranormal paralegals and cutting deals with opposing counsels from hell. And when a young Benmashi starts to discover that her own charm may be more magically-based than she realized, there'll be a hex-tra incentive to work wonders outside the courtroom as well!
Every trial is a witch trial as the most enchantingly Adept Attorney ever becomes a Master of the Art of
Defensive Spells in WIZARD BARRISTERS!