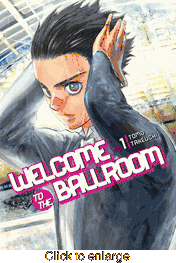 Welcome to the Ballroom Graphic Novels
Genre: Action / Music (Age Rating 13+)
Format: Graphic Novel, B&W
Author: Tomo Takeuchi
Language: English Language
Release: Kodansha
Availability : Some Older Volumes Discontinued and Out of Print - Limited to Stock on Hand




Feckless high school student Tatara Fujita wants to be good at something - anything.
Unfortunately, heís about as average as a slouchy teen can be. The local bullies know this, and make it a habit to hit him up for cash, but all that changes when the debonair Kaname Sengoku sends them packing. Sengokuís not the neighborhood watch, though. Heís a professional ballroom dancer.
And once Tatara Fujita gets pulled into the world of the ballroom, his life will never be the same.