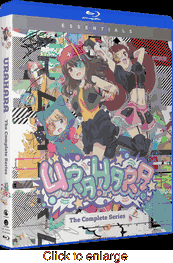 Urahara
Genre: Comedy / Fantasy / Science Fiction (Age Rating 13+)
Format: BLURAY (Region A)
Length: 300 Minutes
Language: Bilingual - Japanese w/ English Subtitles and English Dubbed
Release: Funimation
Availability : Stocking Item - Usually Ships Within 24-48 Hours Unless Backordered








Japanís fashion hotspot, Harajuku,
is known for having some unusual visitorsóbut culture-thieving aliens from outer space?
Well thatís just crossing the line! Banding together, three kawaii high school girls arenít about to let anyone take away the beloved district where PARK, their new pop-up shop, has just opened for business!