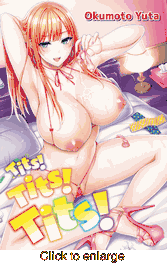 Tits! Tits! Tits! Graphic Novels
Genre: Adult Hentai Manga / Erotic Fantasy
Format: Graphic Novel, B&W, 190 Pgs
Author: Okumoto Yuta
Language: English Language
Release: Fakku
Availability : Stocking Item - Usually Ships Within 24-48 Hours Unless Backordered

Note: This Manga Contains Extremely Graphic Sexual Situations!




Leaving nothing to the imagination!
After being turned down by his secret crush, Katase decides it's time for him to be more bold. He travels to the beach in hopes of getting a crash course in confidence, but it's extremely evident that he's in the deep end with no game! This beach is packed with bodacious babes with bangin' bods, and there's no way Katase can stand a chance. Luckily for him, one of these beach babes happens to be his work manager, Shizuka!
With her husband out of town, Shizuka is fishing for some young tail and fortune is smiling on Katase because he's just the shy kind of guy she's looking to hook!