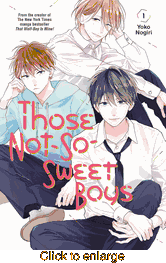 Those Not-So-Sweet Boys Graphic Novels
Genre: Romance / Reverse Harem / School Life (Age Rating 13+)
Format: Graphic Novel, B&W
Author: Yoko Nogiri
Language: English Language
Release: Kodansha
Availability : Stocking Item - Usually Ships Within 24-48 Hours Unless Backordered









Midori drops her wallet on her first day of high school,
but her new classmate Ichijo swoops in to help.
She wants to thank him, but he's part of a tight-knit trio and none of them are ever in class! Rumor has it that they all got expelled for acting up, and studious Midori's actually at risk of expulsion, too… In order to help support her family, she has a part-time job, which is against the school rules. When the chairman of the school board catches her leaving work, he says he'll let it go—but only if she's up to the task of bringing the three boys back to school.
Well, why not? It'll be a piece of cake…right?