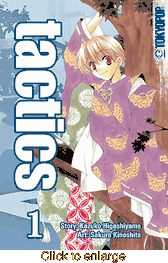 Tactics Graphic Novels
Genre: Fantasy (Age Rating 13+)
Format: Graphic Novel, B&W
Author: Sakura Kinashita
Language: English Language
Release: TokyoPop
Availability : Discontinued and Out of Print - Limited to Stock on Hand







Ever since he was born, Kantarou has had the 6th sense to see demons, and has become friends with them.
One day a demon told him about an ogre-eating tengu, and ever since then Kantarou has been in search of it, and one day on a ghost busting case, finds him.
He then names the tengu Harkua, and in naming him forces the tengu to be his slave.