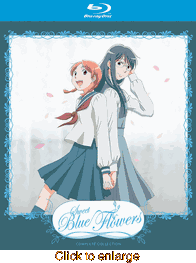 Sweet Blue Flowers
Genre: Drama / Romance (Age Rating 14+)
Format: BLURAY (Region A)
Length: 275 Minutes
Language: Japanese w/ English Subtitles
Release: Nozomi
Availability : Stocking Item - Usually Ships Within 24-48 Hours Unless Backordered








"What if the one I love is a girl...?"
Tears have always come easily to Fumi, but as a child she could always count on her best friend, Akira, to cheer her up. After a decade apart, Fumi and Akira find themselves reunited by chance. But even as the two girls rediscover their friendship, with the start of the new school year Fumi becomes romantically involved with a tall, charismatic girl named Sugimoto.
Fumi soon finds herself playing a balancing act between friendship and love.