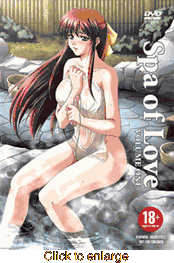 Spa of Love
Genre: Adult Hentai / Erotic Fantasy (Age Rating 18+)
Format: DVD (Region 1) (Uncut and Uncensored)
Length: 30 Minutes Per Volume
Language: Japanese w/ English Subtitles
Release: JapanAnime
Availability : Discontinued and Out of Print - Limited to Stock on Hand

Note: This Anime Contains Extremely Graphic Sex, Nudity, and Adult Situations.






A well-known spa resort made history in its day, but now that glory is in the past and the spa has lately seen many quiet days.
However, things aren't quite as quiet as they used to be since Yuji joined the staff!
There are currently three beautiful housewives staying at the resort, and Yuji steams up a plan to make the spa a place they'll never forget!