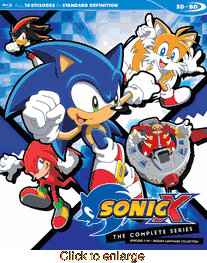 Sonic X
Genre: Action (Age Rating ALL)
Format: DVD (Region 1) or BLURAY (SD-BD) (Region A)
Length: Season 1&2: 1150 Min, Season 3: 575 Min, Complete: 1638 Min.
Language: English Dubbed
Release: Eastern Star
Availability : Stocking Item - Usually Ships Within 24-48 Hours Unless Backordered









Sonic X the Complete Collection contains all 52 English dubbed episodes from seasons 1 and 2!
All of Sonic's Videogame Friends - and Enemies - are here! Tails, Dr. Eggman, Knuckles, Amy, Shadow, Big the Cat, Rouge and Cream & Cheese. The Adventure Begins! Sonic blasts into Dr. Eggman's base to gain control of the Seven Chaos Emeralds and rescue his friends Cream & Cheese. In the heat of the battle, all seven Chaos Emeralds are joined together causing an overpowered Chaos Central to transport Sonic from his home planet and dropping him right in the middle of the city of Station Square. Is he alone in this human world?
What happened to his friends? And why has he been sent here?