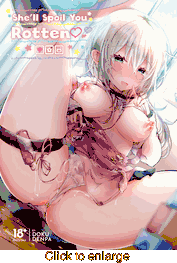 She'll Spoil You Rotten Manga
Genre: Adult Hentai Manga / Erotic Fantasy
Format: Manga, Doujinshi, B&W, 58 Pgs, Print Size: B5
Author: Doku Denpa
Language: English Language
Release: J18
Availability : Stocking Item - Usually Ships Within 24-48 Hours Unless Backordered

Note: This Manga Contains Extremely Graphic Sexual Situations!




In the first part of this doujinshi, Kazuki shows up at Yuki's elementary school while she's at work!
The kids are out on a field trip, which means Yuki and Kazuki have the classroom all to themselves... and more importantly, Kazuki finally has Yuki all to himself. He's tired of sharing Yuki's love and affection with her students, and there's no better way to massage his jealous ego than by fucking Yuki in her classroom while she's wearing her school apron! And even though she's embarrassed, Yuki's happy that Kazuki's finally admitting how much he craves her attention... so she's more than willing to give it to him. But this doujinshi also has a second part! After a long day of work, Kazuki's jealousy is acting up again—and as usual, he's too stubborn to admit it to Yuki. So, he teases and tortures her with pleasure until she begs for his affections herself!
Of course, Yuki knows exactly what Kazuki is up to... but she relishes the opportunity to spoil him with the attention he craves, so she's more than happy to play along. Even if it means letting herself become putty in his hands.