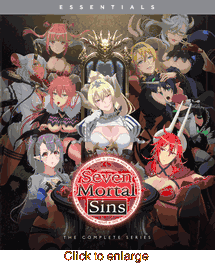 Seven Mortal Sins
Genre: Fantasy (Age Rating 17+)
Format: BLURAY (Region A)
Length: 300 Minutes
Language: Bilingual - Japanese w/ English Subtitles and English Dubbed
Release: Funimation
Availability : Stocking Item - Usually Ships Within 24-48 Hours Unless Backordered








Before Luciferís fall, hell was ruled by seven demon lords, known as the Seven Mortal Sins.
These beautiful and tempting devils seek complete corruption of the world, but everything is about to change when Lucifer is cast down to their realm of hell, and takes up arms with an Earth girl named Maria.
Whose corruption will rule hell and the hearts of mankind?