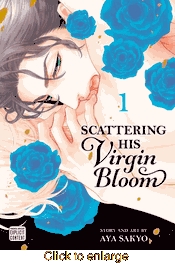 Scattering His Virgin Bloom Graphic Novels
Genre: Adult Hentai Manga / Yaoi / Erotic Fantasy
Format: Graphic Novel, B&W, 184 Pgs
Author: Aya Sakyo
Language: English Language
Release: Sublime
Availability : Stocking Item - Usually Ships Within 24-48 Hours Unless Backordered

Note: This Manga Contains Extremely Graphic Sexual Situations!




Hana—an omega frequently mistaken for an alpha—works at a local cafe, and at 26 years old, he's somehow never gone into heat and still retains his virginity.
When his first heat finally hits, it's in front of arrogant alpha Renjaku, a regular at his cafe he has a secret crush on.
Will a sought-after alpha such as Renjaku take his coffee and go, or will he take something much sweeter instead?