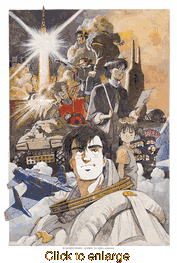 Royal Space Force : Wings of Honneamise 4K HDR/2K
Genre: Drama / Science Fiction (Age Rating 18+)
Format: 4K UHD & BLURAY (Region A)
Length: 125 Minutes
Language: Bilingual - Japanese w/ English Subtitles and English Dubbed
Release: Bandai Namco
Availability : Discontinued - Availability Limited to Stock on Hand









The Royal Space Force is established in Honnęamise - a fictional kingdom on a fictional planet.
Although the force boasts 30 years of history, they haven't been able to achieve solid results; people and the government have given up on them, seeing the force as a burden. Shirotsugh Lhadatt, the protagonist, is a member of the Royal Space Force, which far from their dreams have gone into idleness. One day, Shirotsugh meets Riqunni, a girl who preaches God's word, and his destiny drastically changes, leading him to volunteer to be a space pilot...

Prepare to witness the legendary film that revolutionized the anime industry, launched the careers of dozens of today's animation superstars such as Hideaki Anno and Yoshiyuki Sadamoto of "Evangelion" and put Studio GAINAX forever on the map as one of Japan's premiere production houses. Staggering animation, brilliant storytelling and a scope that goes beyond epic combine to produce an emotional powerhouse that will send your spirit flying towards the stars!
The 4K disc in this combo pack is an Ultra HD Blu-ray Disc created exclusively for 4K HDR hardware.
It will require a special Ultra HD 4K Blu-Ray player (it will not play on a standard Blu-Ray player.) For the complete experience you will also need
a 4K Ultra HD TV with HDR (High Dynamic Range) and a High-Speed HDMI (Category 2 or higher) cable.