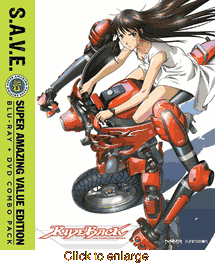 Rideback
Genre: Science Fiction (Age Rating 16+)
Format: DVD (Region 1) & BLURAY (Region A)
Length: 300 Minutes
Language: Bilingual - Japanese w/ English Subtitles and English Dubbed
Release: Funimation Entertainment
Availability : Stocking Item - Usually Ships Within 24-48 Hours Unless Backordered






In a future world where an organization called the GGP has taken control of the world, Rin Ogata was a promising up-and-comming ballet dancer, but suffered a
serious injury and decided to quit.
Years later in college she comes across a club building and soon finds herself intrigued by a transforming motorcycle like vehicle called a Rideback. She soon finds that her unique ballet skills with balance and finesse make her a born natural on a Rideback.