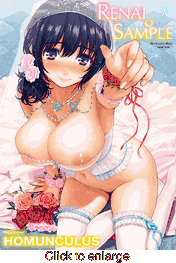 Renai Sample Graphic Novels
Genre: Adult Hentai Manga / Erotic Fantasy
Format: Graphic Novel, B&W, 212 Pgs
Author: Homunculus
Language: English Language
Release: Fakku
Availability : Stocking Item - Usually Ships Within 24-48 Hours Unless Backordered

Note: This Manga Contains Extremely Graphic Sexual Situations!




Homunculus presents a nice thick manga volume
full of irresistibly cute girls, heartwarming romance stories, and super erotic scenes.
10 chapters of amazing moe girls who need a man to show them how to love.
Beautiful maidens, cute classmates - there's a girl for everyone! Contains fellatio, threesomes, ecstasy faces, nakadashi, and more!