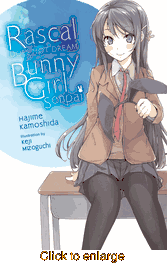 Rascal Does Not Dream of Bunny Girl Senpai Graphic Novels
Genre: Drama / Romance (Age Rating 13+)
Format: Graphic Novel, B&W
Author: Story by Hajime Kamoshida and Art by Tsugumi Nanamiya
Language: English Language
Release: Yen Press
Availability : Pre Order Item - Not Yet Released









Bunny girls do not live in libraries.
This is simply common sense. And yet, that's exactly where Sakuta runs into one in the wild. More bewildering is who the bunny girl is: Mai Sakurajima, an upperclassman and well-known actress currently taking a break from industry work.
Wanting to find out more about the mystery surrounding Mai (and maybe get a little closer to her in the process), Sakuta launches an investigation to figure out what's making this bunny girl invisible to everyone around them.