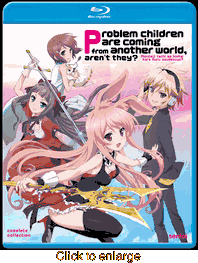 Problem Children are Coming From Another World Aren't They?
Genre: Action / Comedy / Fantasy (Age Rating 14+)
Format: BLURAY (Region A)
Length: 275 Minutes
Language: Bilingual - Japanese w/ English Subtitles and English Dubbed
Release: Section 23
Availability : Stocking Item - Usually Ships Within 24-48 Hours Unless Backordered









On the planet Little Garden, the dangerous Gift Games played between individuals with unique abilities are the route to wealth, power and global dominance.
Where there are winners, however, there are also losers, and the No Name faction has been so decimated that only 120 members, mostly children, remain. Now there's just one hope: Bring in outside recruits and gamble that their new abilities will reverse the tide! And on a world known as Earth, they find Izayoi, Asuka and Yo. The three new players have no idea what they're getting into, let alone any inkling as to how dangerous the games really are, but all are far more formidable than they appear.
The battle for supremacy will be anything except fun and games as the ultimate fight for power begins!