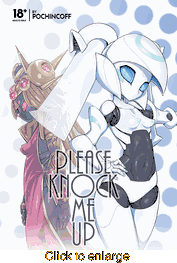 Please Knock Me Up Manga
Genre: Adult Hentai Manga / Erotic Fantasy
Format: Manga, Doujinshi, B&W, 48 Pgs, Print Size: B5
Author: Pochincoff
Language: English Language
Release: J18
Availability : Stocking Item - Usually Ships Within 24-48 Hours Unless Backordered

Note: This Manga Contains Extremely Graphic Sexual Situations!




Chlarastella is a hard-working robotic custodian of humanity,
but she never takes any time for her own enjoyment!
When her superiors suggest she take a vacation to learn about pleasure, Chlarastella seeks out a human to learn about what they find enjoyable.
To make her silky-smooth machined body even better-suited for sex, she has some squishy breasts and sex organs installed...
and then the human race teaches her just how to have fun in her spare time!