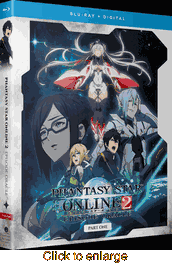 Phantasy Star Online 2 : Episode Oracle
Genre: Action / Adventure / Science Fiction (Age Rating 14+)
Format: BLURAY (Region A)
Length: Part 1: 300 Minutes, Part 2: 325 Minutes
Language: Japanese w/ English Subtitles
Release: Funimation
Availability : Stocking Item - Usually Ships Within 24-48 Hours Unless Backordered








In the abyss of space, the Oracle fleet
continues to explore new planets and confront the dangers of the horrific Falspawn.
Recently graduated ARKS cadet Ash is neither prepared for the war he's now part of nor the revelations that will come from it.
From GONZO, the studio that brought you Full Metal Panic! and Chrono Crusade.