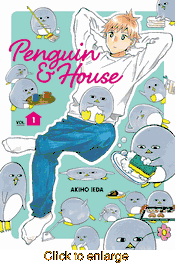 Penguin & House Graphic Novels
Genre: Comedy / Slice of Life (Age Rating 13+)
Format: Graphic Novel, B&W
Author: Akiho Ieda
Language: English Language
Release: Kodansha
Availability : Stocking Item - Usually Ships Within 24-48 Hours Unless Backordered









Pen the penguin lives with his most favorite keeper in the world: Hayakawa the human!
But Pen's no ordinary penguin…He's a neat penguin! A proper penguin! A doting penguin! Pen loves to daydream of Hayakawa's smile as he flips pancakes, runs errands, and folds the laundry with his teeny-tiny flippers. If only his beloved Hayakawa would notice! Unfortunately, Pen's human keeper can't speak penguin and is also a hopelessly lazy university student.
With Pen's comical expressions and Hayakawa's lighthearted cluelessness, every day in their house is full of adorable mishaps and hijinks!