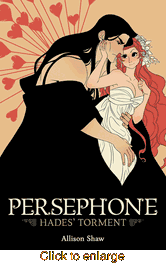 Persephone Hades' Torment Graphic Novels
Genre: Fantasy / Romance (Age Rating 15+)
Format: Graphic Novel, B&W
Author: Allison Shaw
Language: English Language
Release: Seven Seas
Availability : Stocking Item - Usually Ships Within 24-48 Hours Unless Backordered









According to the ancient legend,
the Lord of the Dead kidnapped the innocent daughter of Demeter—or did he?
The truth is, Persephone is no damsel in distress, but a spirited young lady with an overbearing mother. A failed scheme by Apollo leads Persephone to a chance encounter with the mysterious and handsome Hades, who is struck by love's arrow.
Now Hades must wrestle with his aching heart before he loses total control of his feelings, but desire is raging inside Persepone herself.