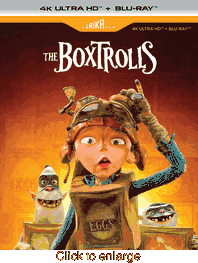 Boxtrolls 4K HDR/2K
Genre: Comedy / Fantasy / Adventure (Age Rating 13+)
Format: 4K UHD & BLURAY (Region A)
Length: 96 Minutes
Language: Audio and Subtitles in English, Spanish, and French
Release: Shout Factory
Availability : Stocking Item - Usually Ships Within 24-48 Hours Unless Backordered









From the creators of Coraline and ParaNorman
comes a magical family adventure about heroes of all shapes and sizes: The Boxtrolls.
Quirky, mischievous and good-hearted, these box-wearing creatures have lovingly raised a human boy named "Eggs" in a charming cavern below the bustling streets of Cheesebridge. But when evil Archibald Snatcher (Ben Kingsley) decides to capture the lovable misfits, it's up to Eggs (Isaac Hempstead Wright) and his feisty young friend, Winnie (Elle Fanning), to save the Boxtrolls.
Also featuring the voice talents of Jared Harris, Nick Frost, Toni Collette and Tracy Morgan,
The Boxtrolls is "a delectable treat" (Brian Truitt, USA Today)!
The 4K disc in this combo pack is an Ultra HD Blu-ray Disc created exclusively for 4K HDR hardware.
It will require a special Ultra HD 4K Blu-Ray player (it will not play on a standard Blu-Ray player.) For the complete experience you will also need
a 4K Ultra HD TV with HDR (High Dynamic Range) and a High-Speed HDMI (Category 2 or higher) cable.