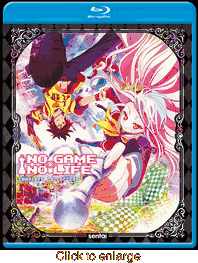 No Game, No Life
Genre: Comedy / Fantasy (Age Rating 17+)
Format: DVD (Region 1) & BLURAY (Region A)
Length: Season 1: 300 Min, Movie: 105 Min, TV+Movie: 405 Min
Language: Bilingual - Japanese w/ English Subtitles and English Dubbed
Release: Section 23
Availability : Stocking Item - Usually Ships Within 24-48 Hours Unless Backordered








On the internet, they're legends: the tag-team duo known as BLANK, famed for their incredible game-playing skills.
In the real world, however, the lives of 18 year old Sora and his 11 year old stepsister Shiro have been spiraling out of control. Now existing as shut-ins, they rarely leave their house and are unable to be separated without suffering panic attacks. Games, for them, are the safest retreat from reality. Until they win a chess match against a mysterious opponent known as Tet and find themselves pulled into a game bigger than any they could have ever imagined. Now, in a world where the outcome of games determines the fates of both civilizations and species, they must defend Humanity in the ultimate challenge, vying against a host of otherworldly competitors for the right to rule them all! But if they fail, it means slavery or destruction for all mankind. No pressure, of course! Can two misfits who can barely handle their own lives somehow rise to the occasion and save the human race?
The competition is on as their battles begin in NO GAME, NO LIFE!
Premium Edition includes a CD; Chipboard Box; 9x Stickers; Poster; 6x Postcards; Foil Card; Authenticity Card; Playing Cards; Japanese Commentaries, Promos & Commercials; No Game, No Life Shorts; Clean Opening Animation; Clean Closing Animation