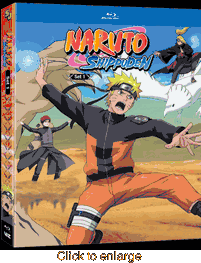 Naruto: Shippuden TV BLURAY Sets
Genre: Action / Fantasy (Age Rating 14+)
Format: BLURAY (Region A)
Length: 650 Minutes
Language: Bilingual - Japanese w/ English Subtitles and English Dubbed
Release: Viz
Availability : Pre Order Item - Not Yet Released









Naruto returns to the Village Hidden in the Leaves a little bit older and a whole lot stronger!
And just in the nick of time too, as the diabolical Akatsuki are on the move! Their first target is the now Kazekage of the Village Hidden in the Sand, the mighty Gaara. Then Granny Chiyo and Sakura fight for their lives in a desperate battle against a terrifying Akatsuki named Sasori!
This master of puppets fights from afar with his macabre marionettes!