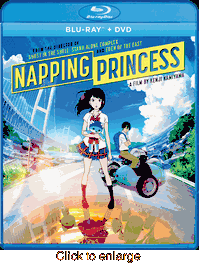 Napping Princess
Genre: Science Fiction (Age Rating 13+)
Format: DVD (Region 1) and BLURAY (Region A)
Length: 110 Minutes
Language: Bilingual - Japanese w/ English Subtitles and English Dubbed
Release: Shout Factory
Availability : Stocking Item - Usually Ships Within 24-48 Hours Unless Backordered








The year is 2020, three days before the opening of the Tokyo Olympics.
While she should be studying for her exams, Kokone Morikawa is often dozing off, stuck between reality and a dream-world full of fantastic motorized contraptions. But after her father, a talented but mysterious mechanic, is arrested for stealing technology from a powerful corporation, itís up to Kokone and her childhood friend Morio to save him. Together they realize that Kokoneís dream-world holds the answers to the mystery behind the stolen tech, and they embark on a journey that traverses dreams and reality, city and country, and past and present.
Their mission uncovers a trail of clues to her fatherís disappearance and ultimately a surprising revelation about Kokoneís family.