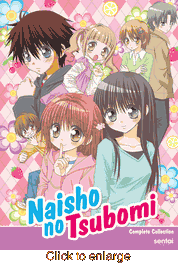 Naisho no Tsubomi
Genre: Drama (Age Rating 15+)
Format: DVD (Region 1)
Length: 85 Minutes
Language: Japanese w/ English Subtitles
Release: Section 23
Availability : Stocking Item - Usually Ships Within 24-48 Hours Unless Backordered








Just as Tsubomi is getting ready to start the fifth grade, everything she thought she knew about her life suddenly starts to change.
Not only has her mother just told her that she's about to become a big sister, but Tsubomi's been starting to feel a little strange herself and it seems that there's a lot more to growing up than she thought! Unfortunately, people's bodies don't come with owners' manuals, so Tsubomi will have to rely on advice from her friends at school and most of them don't know any more than she does. (Some of them are even BOYS!) Fortunately, there's that mysterious new transfer student, Saya, who seems to be a bit more knowledgeable, and with some help from Mom...
Tsubomi just might make it through adolescence unscathed!