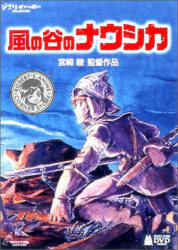 Nausicaa of the Valley of the Wind (Import DVD) (Kaze no Tani no Naushika)
Genre: Fantasy / Drama
Format: Japanese Import DVD (Region 2)
Length: 116 Minutes
Language: Japanese Language w/ English Subtitles Available
Release: Studio Ghibli
Availability : Import Item - Usually Ships Within 24-48 Hours Unless Backordered

Note: This item is imported directly from Japan and is Japanese language only. Please check region encoding for DVD compatibility information. While we do our best to keep direct Import items in stock, backorders may happen, and we expect delivery times of 4-12 weeks if this item is out of stock. Please keep this in mind when ordering.



This landmark film is Hayao Miyazaki's second theatrical feature as director (following "Lupin III: Castle of Cagliostro"), and the first one based on his original story.
Sometime in the future, mankind has nearly destroyed this planet in the "Seven Days of Fire". A princess named Nausicaa from the Valley of Wind tries to stop the warring nations from destroying each other and the only means left to save the world.
Extras on this double DVD set includes complete storyboards accompanied by the film's soundtrack. By using the DVD angle button, one can switch back and forth between storyboards and finished film scenes. Other extras include audio commentary, theatrical trailers and teasers. The sleeve cover features Hayao Miyazaki's original watercolor drawing entitled "Torumekia Sen-eki (war)."