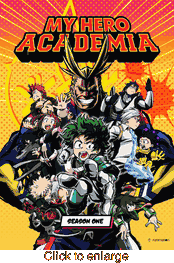 My Hero Academia
Genre: Action / Science Fiction (Age Rating 15+)
Format: DVD (Region 1) & BLURAY (Region A)
Length: S1: 325 Min, S2: 625 Min, S3: 625 Min, S4: 635 Min
Language: Bilingual - Japanese w/ English Subtitles and English Dubbed
Release: Funimation
Availability : Stocking Item - Usually Ships Within 24-48 Hours Unless Backordered








From studio BONES, the creators of Fullmetal Alchemist and Soul Eater, comes My Hero Academia, a superhero origin story that soars to the top of the class.

It's an exciting age of heroes, where most people develop supernatural abilities known as Quirks. Bright-eyed kids like Izuku Midoriya—Deku for short—dream of the day they become champions of the people. There's just one little problem standing in Deku's way. In a world full of heroes, he's Quirkless. Crushed, but not down for the count, this superhero-fanboy dedicates his time to studying the pros in hopes that he, too, can join a prestigious high school for heroes. In the face of despair, Deku's courage catches the eye of his ultimate idol, the symbol of justice known as All Might! With special training from the big guy himself, Deku and the talented first-years of the academy may finally have a
shot at achieving their dreams.

But these amateurs are put to the test of a lifetime when routine training becomes a battle against real villains!