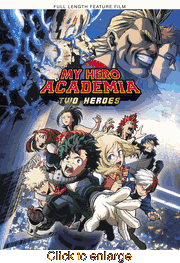 My Hero Academia : Two Heroes Movie
Genre: Action / Science Fiction (Age Rating 14+)
Format: DVD (Region 1) and BLURAY (Region A)
Length: 96 Minutes
Language: Bilingual - Japanese w/ English Subtitles and English Dubbed
Release: Funimation
Availability : Stocking Item - Usually Ships Within 24-48 Hours Unless Backordered








Witness the excitement that SMASHED the box office!
Ranked the number one hero anime year after year, My Hero Academia's first-ever movie took theaters by storm. Deku and his friends take on a daring rescue operation when villains hack into I-Expo—the world's leading hero item exhibition.
All Might is trapped by their sinister plan, and his best hope for saving everyone lies in the new generation of heroes.