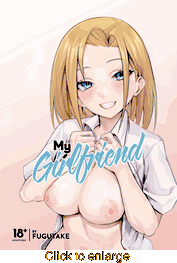 My Girlfriend Manga
Genre: Adult Hentai Manga / Erotic Fantasy
Format: Manga, Doujinshi, B&W, 52 Pgs, Print Size: B5
Author: Fugutake
Language: English Language
Release: J18
Availability : Stocking Item - Usually Ships Within 24-48 Hours Unless Backordered

Note: This Manga Contains Extremely Graphic Sexual Situations!




Even after two childhood friends add benefits to their relationship,
they're not quite ready to take things to the next level... but will they be able to admit their attraction to one another before their youthful fling runs its course?
Kazuki and Elina are more than just childhood friends: a chance encounter with a porno mag was the kick they needed to start exploring the sexual side of life, and they've been happy fuckbuddies for eight years! Kaz is a two-pump chump with gargantuan loads and Ellie's a notorious squirter, so the two make a perfect pair... but neither is ready to admit they're ready to make the leap to being boyfriend and girlfriend.
Once Kazuki realizes other guys might have their eye on Elina (and she might have her eye on them) will he be able to convince his childhood friend of his true feelings, or will it be too late for him to make his move?