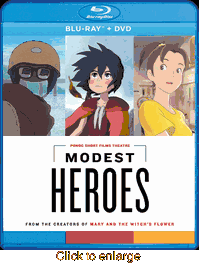 Modest Heroes
Genre: Drama / Adventure (Age Rating 13+)
Format: DVD (Region 1) and BLURAY (Region A)
Length: 54 Minutes
Language: Bilingual - Japanese w/ English Subtitles and English Dubbed
Release: Shout Factory
Availability : Stocking Item - Usually Ships Within 24-48 Hours Unless Backordered








Modest Heroes is an ambitious anthology of three thrilling tales
created by some of the greatest talents working in Japanese animation today.
Together, the stories (Kanini & Kanino, Life Ainít Gonna Lose, Invisible) explore ideas of heroism in everyday life, and the infinite potential of the short film format which allows the directors and Studio Ponoc to experiment.
Breathtaking, action-packed visuals, concise human drama, and gorgeous fantasy worlds make this
an unforgettable showcase that is a further demonstration of the studioís exciting future.