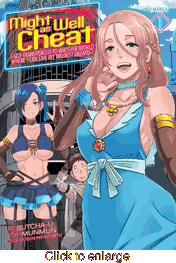 Might as Well Cheat : I Got Transported to Another World Where I Can Live
My Wildest Dreams! Graphic Novels
Genre: Comedy / Fantasy / Fan Service (Age Rating 17+)
Format: Graphic Novel, B&W
Author: Story by Munmun and Art by Butcha-U
Language: English Language
Release: Ghost Ship
Availability : Stocking Item - Usually Ships Within 24-48 Hours Unless Backordered








Satou Tarou, a 30-year-old construction worker, just died.
Reborn into a fantasy world, he's granted such a high level of healing magic that it feels like a cheat code—and the healing potions he produces fetch a high price.
Now wealthy, powerful, and with the worries of his old world long gone, he's ready to live it up in this new life…starting at the nearest brothel!