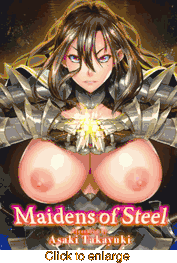 Maidens of Steel Graphic Novels
Genre: Adult Hentai Manga / Erotic Fantasy
Format: Graphic Novel, B&W, 202 Pgs
Author: Asaki Takayuki
Language: English Language
Release: Fakku
Availability : Stocking Item - Usually Ships Within 24-48 Hours Unless Backordered

Note: This Manga Contains Extremely Graphic Sexual Situations!




In a village of human and orc alliances, the strength of an orc is a huge asset but Nara is pretty wimpy when it comes to your average orc powerhouse.
That's why his father puts him under the tutelage of the Captain, the beloved beauty and gifted heroine who's going to do everything to make a man out of him! As months pass, the slender orc starts to gain some experience, but after a failed enemy encounter, Nara is back down to zero, despite the Captain's encouraging words. She promised she'd make him a man and she knows one sure-fire way that will lift his spirits. The Captain grabs Nara's "sword" and starts the next phase of his intense training, but his weapon may be a bit too much for her to handle! Maidens of Steel by Takayuki Asaki is a journey for the adventurer in all of us who loves powerful women clad in armor! Collecting eleven chapters, these warriors arrive on the scene with the composure of elegant princesses and the skill of battle-hardened champions.
While they might have the upper hand in most conflicts, there are dangerous orcs, mischievous goblins, and other beasts of burden that easily have the capacity to ruin their chastity if they get too prideful.