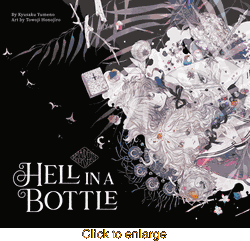 Maiden's Bookshelf Graphic Novels
Genre: Mystery / Literary Adaptation (Age Rating 16+)
Format: Graphic Novel, B&W
Author: Various Artists
Language: English Language
Release: Vertical
Availability : Stocking Item - Usually Ships Within 24-48 Hours Unless Backordered









Beautiful books in a form that can be enjoyed both as a short story and an artbook.
This series combines gorgeous contemporary artwork with literary classics of the early 20th century, bringing classic Japanese literature to a new audience.
Hell in a Bottle: A children's Eden on a deserted island turns to hell, as a brother and sister face the ultimate temptation... Told in epistolary form, this bizarre short story takes on themes of faith, degradation, and transgression, accompanied by stunning original artwork.
The Moon Over the Mountain: During a trip, Ensan is reunited with his old friend Li, but his once beautiful appearance has completely changed... This mystical tale of a man transformed into a tiger is rooted in a story dating from the Tang dynasty, but feels totally immediate thanks to Nakajima's masterful adaptation and Nekosuke's gorgeous original art.