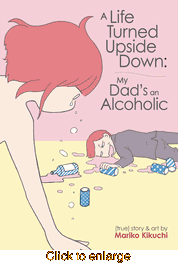 A Life Turned Upside Down: My Dad's an Alcoholic Graphic Novels
Genre: Drama / Documentary (Age Rating 15+)
Format: Graphic Novel, B&W
Author: Mariko Kikuchi
Language: English Language
Release: Seven Seas
Availability : Stocking Item - Usually Ships Within 24-48 Hours Unless Backordered









Mariko Kikuchi tells the painful story of her fatherís alcoholism, and her own journey through guilt and self-blame to understand her fatherís illness.
She rejects the common belief that family members can and should be forgiven for anything they do, no matter how much harm they cause. This powerful, self-contained manga began as a web series that went viral, and went on to inspire a 2019 film in Japan.
Now this groundbreaking work about the ripple effects of addiction will be released in English for the very first time.