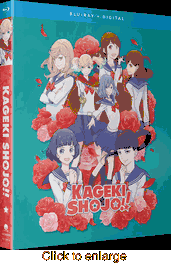 Kageki Shojo!!
Genre: Drama / School Life (Age Rating 14+)
Format: BLURAY (Region A)
Length: 325 Minutes
Language: Bilingual - Japanese w/ English Subtitles and English Dubbed
Release: Funimation
Availability : Stocking Item - Usually Ships Within 24-48 Hours Unless Backordered









The curtain rises on the Kouka School of Musical and Theatrical Artsí 100th class.
For former idol Ai Narata, her starry-eyed roommate Sarasa, and the rest of the freshman class...
... it will take a lot of hard work and tears before they can shine on stage.