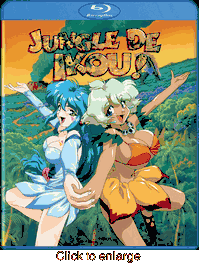 Jungle De Ikou!
Genre: Action / Comedy (Age Rating 13+)
Format: BLURAY (Region A)
Length: 90 Minutes
Language: Bilingual - Japanese w/ English Subtitles and English Dubbed
Release: Media Blasters
Availability : Stocking Item - Usually Ships Within 24-48 Hours Unless Backordered








All 3 episodes of Yuji Moriyama's classic OVA!
When her archeologist father excavates an ancient temple, beautiful Natsumi is presented with a powerful necklace that enables her to embark on a series of fanservice-filled magical adventures with sidekicks Ongo and Nami, a shy girl with magical powers.
Together, they set out to save the world from a 2,000 year old evil god of destruction!