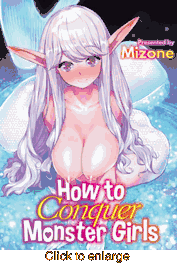 How to Conquer Monster Girls Graphic Novels
Genre: Adult Hentai Manga / Erotic Fantasy
Format: Graphic Novel, B&W, 217 Pgs
Author: Mizone
Language: English Language
Release: Fakku
Availability : Stocking Item - Usually Ships Within 24-48 Hours Unless Backordered

Note: This Manga Contains Extremely Graphic Sexual Situations!




In a land of mythical creatures and fantasy, this might seem like your typical tale, but an adventurer simply known as The Omnivore Hero has only one treasure heís seeking...and it's the booty of fair monster maidens!
Traveling with his shapeshifting cat mage, Misha, Hero looks to take down the impressive Demon Lord and bring peace to the land.
If that means he has to lay his sword to conquer a murderís row of captivating creatures, then Hero will make that sacrifice!