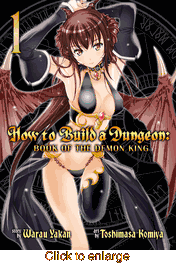 How to Build a Dungeon
Book of the Demon King Graphic Novels
Genre: Fantasy (Age Rating 16+)
Format: Graphic Novel, B&W
Author: Author Warau Yakan and artwork by Komiya Toshimasa
Language: English Language
Release: Seven Seas
Availability : Some Older Volumes Discontinued and Out of Print - Limited to Stock on Hand








At the end of his life, after decades of painstaking research, Aur's quest for ultimate power is within reach.
But first he must die! Now, reborn into a magical world as the Demon King, he uses his new found abilities to make his dark visions a reality. Upon summoning an alluring succubus known as Lilu to serve him, he immediately begins the task of creating a dungeon—an underground kingdom of his own, filled with all manner of fantastical beasts. As Aur crafts the intricate and dangerous world of his dungeon, he'll learn what it takes to become a true Demon King, with all the pleasures, troubles, and trials that come with it.
And his enemies will cower in fear!