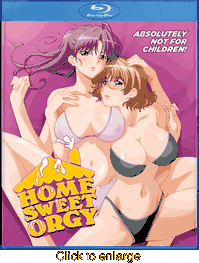 Home Sweet Orgy

Genre: Adult Hentai / Erotic Fantasy
Format: BLURAY (Region A)
Length: 60 Minutes
Language: Japanese w/ English Subtitles
Release: Kitty
Availability : Pre Order Item - Not Yet Released

Note: This Anime Contains Graphic Sex, Graphic Violence, and Adult Situations.







Ryuichi is a university student who is used to living alone.
But when his apartment is destroyed by a fire, he reluctantly returns to his family's home only to discover that it's been converted into a boarding house for a bevy of beautiful babes! Ryuuichi feels awkward at first but the ladies quickly make him feel welcome in the most intimate ways imaginable!
Thus begins an exhausting but pleasurable new phase in Ryuuichi's life!