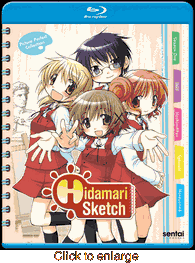 Hidamari Sketch
Genre: Comedy / Slice of Life (Age Rating 15+)
Format: DVD (Region 1) & BLURAY (Region A)
Length: S1: 350 Min, S2: 400 Min, S3: 350 Min, S4: 300 Min, Specials: 50 Min, Perfect: 1450 Min
Language: Japanese w/ English Subtitles
Release: Section 23 Films
Availability : Stocking Item - Usually Ships Within 24-48 Hours Unless Backordered








Art was her life... Now her life is art!
Season 1 (Eps #1-12 + 2 Bonus Eps)
For years, Yuno's dreamed of attending Yamabuki Arts High School, but now that she's been accepted, it means the scary prospect of moving away from her home and family for the first time! Fortunately, Yuno quickly learns that if her new neighbors at the eclectic Hidamari (Sunshine) Apartments aren't technically family, at least the majority share the bond of being fellow art students. From second year students like Hiro and Sae, who try to behave like helpful older sisters (mostly successfully) to her hyperactive new neighbor, classmate, and best friend Miyako (who has the scariest apartment ever), Yuno begins to build the support network she'll need for dealing with strange characters like her oddly masculine landlady, her cosplay-obsessed homeroom teacher, her tooth-chattering principal and all of the other odd denizens who inhabit her chosen world of art. It won't be easy, and it won't always be pretty, but with her friends at her back Yuno's going to reach for the stars!
Season 2 (365) (Eps #1-14 + 2 Bonus Eps)
You didn't think Yuno's story was over, did you? Of course it isn't, but if you've seen the first series of Hidamari Sketch, you should know not to expect the "A happens after B after C" pattern of the rest of the world. In fact, instead of just taking place after Yuno's first year at Yamabuki High, X365 continues the saga on both sides, around, and in-between, filling in the details in an ever-expanding collage that's both avant-garde and slice of life! And if the format's not completely unexpected, we guarantee that some of the things that you never knew about before will be!
Season 3 (Hoshimittsu) (Eps #1-14)
Some say that life is like an unfolding tapestry, but living at the Hidamari Apartments is more like being part of a patchwork quilt, one that constantly changes as bits and pieces of the lives and dreams of the young artists who make this extraordinary residence their home are added to the ever-expanding pattern. When we first met Yuno, she'd just been accepted to the prestigious Yamabuki Art School and it was up to her new neighbors at Hidamari to help her find her way in the big scary world. Now a seasoned vet of the Hidamari Apartments herself, Yuno's newest challenge is to help the latest arrivals, Nazuna and Nori, acclimate to life on their own. Of course, since it IS Hidamari, there are still lots of trials and tribulations ahead, and nothing will ever go quite as expected. But with friends like Miyako, Hiro and Sae ready to lend a hand, there will always be a ray of sunshine at the end of every storm in Hidamari Sketch x Hoshimittsu - Blu-ray.
Season 4 (Honeycomb) (Eps #1-12)
Studying at the Yamabuki Arts High School has been a dream-come-true for Yuno, and she's learned so much already! And not just from her instructors, but from her friends and neighbors who've become her second family and made the Hidamari Apartments such a safe and nurturing home. But as the day of her "big sisters" Sae and Hiro's graduation draws slowly closer, it's time for Yuno to start seriously taking on the same role for Nazuna, Nori and the other budding young artists who've entered Hidamari's protective cocoon. And it's also time to tackle some really challenging artistic assignments. That doesn't mean there won't still be time for fun with Miyako and all the others, but it's definitely time to pencil in her plans for the future. And sometimes that means you have to put the art before the course! Prepare to be drawn in once again as the magic that surrounds Hidamari continues in HIDAMARI SKETCH X HONEYCOMB - The COMPLETE COLLECTION!
Specials
Even though studying at a prestigious art school like Yamabuki is hard work, the girls who live at the Hidamari Apartments always manage to squeeze in time for a little fun and exploration. And when they actually get a day off? Watch out world! Yuno, Sae, Hiro, Miyako and new students Nori and Nazuna return to create another masterpiece of life as art, with all new adventures that include swimming, pajama parties, trips to the art museum and even an all-you-can-eat diner courtesy of the landlady! Of course, there's always a little housework that has to be squeezed in, but with a pinch of resourcefulness and a dash of creativity, even the most onerous of chores can be turned into something magical. Get ready for another illustrious collection of life, laughter and togetherness as Yuno and her friends always put a little love in their art in HIDAMARI SKETCH X SP!